Why Procurement and other organisations' performance may be missing the mark.
This week I was alerted by Dutch procurement consultant, Robbert den Braber, to a blog by technology sourcing expert, Dr Michael Lamoureux – a critique of an article by Accenture senior manager Kamendran Govender entitled "Command and Supply" about procurement practice to achieve superior supply chain performance.
Another article by freelance writer Stephanie Overby, "Is There a Lack of Innovation From Outsourcers?" reviewed the findings of a 2011 Forrester Research Survey, where 41% of outsourcing clients cited lack of innovation as the biggest challenge with their existing IT services relationships, and quoted Forrester analyst, Jan Erik Aase, "I believe my findings apply to any vendor relationship."
The articles resonated with my recent blogs "How to Start a Strategic Value-Added Programme" and "How to select suppliers to create value" where I focused on assessing supplier's capability to collaborate and innovate, to help us optimize existing products/services, and to achieve our desired business outcomes.
Now I aim to stimulate readers to think about why procurement (and other) organisations'  performance may be missing the mark. My contention is that procurement strategies are often misaligned to business strategies, failing to satisfy fundamental business requirements. The thinking need not be confined to procurement; my original content will apply to other organisations and functions.
The Importance of Understanding What the Business Requires
Govender proposed "7 supply chain commandments", advocating "A business that excels in these seven imperatives will be better positioned to develop, source, manufacture and distribute superior products at a lower cost.  It will more effectively anticipate customer needs and meet them profitably."
Articulate a clear value-creation algorithm.
Approach the supply chain as a comprehensive value delivery system.
Segment the supply chain and consistently adapt it to the characteristics of each segment.
Optimize the global operations architecture for scale, access, flexibility and risk mitigation.
Selectively invest for mastery in differentiating capability areas.
Deploy information systems that deliver insightful analytics, alignment and responsiveness.
Drive process execution discipline with the right talent, powered by a culture that enables high performance.
Lamoureux reduced the 7 to a single commandment, "Focus on value."  I broadly agree. Of Govender's 7 commandments, four (1,2,3,5) are covered explicitly by Michael Porter's seminal work on value chain analysis, as are two others (6.7) implicitly; the last (4) relates to global businesses and is not universally applicable. This is not to undermine the messages behind the '7 commandments', quite the contrary. The key questions are "Does our procurement organisation excel in these seven imperatives?" and, if not, "What do we need to do about it?"
The reason these articles had particular resonance is that they highlight the importance of understanding what the business requires of procurement if it is to deliver superior supply chain performance. Now I shall move on, to reflect on the procurement organisation's capability.
The 3 Dimensions of Organisational Capability and Performance
An organisation's capability to perform is dependent on three factors:
Cognisance – the knowledge of what is required, enabling focus on the right things
Competence – the ability to do it right
Capacity – the level of resource required to perform the task in the allotted time,
These three factors can be mapped on a 3-dimensional grid as represented by the following cube, "The 3C Model"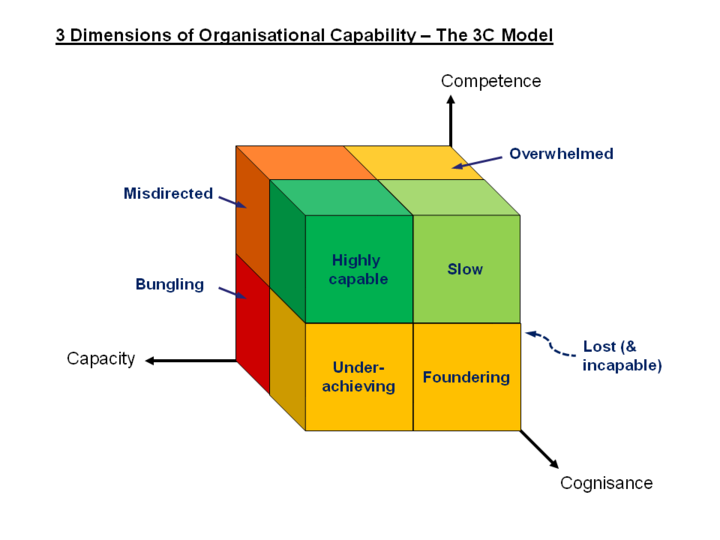 The performance characteristics and risks associated with each element of the cube are set out in the following table.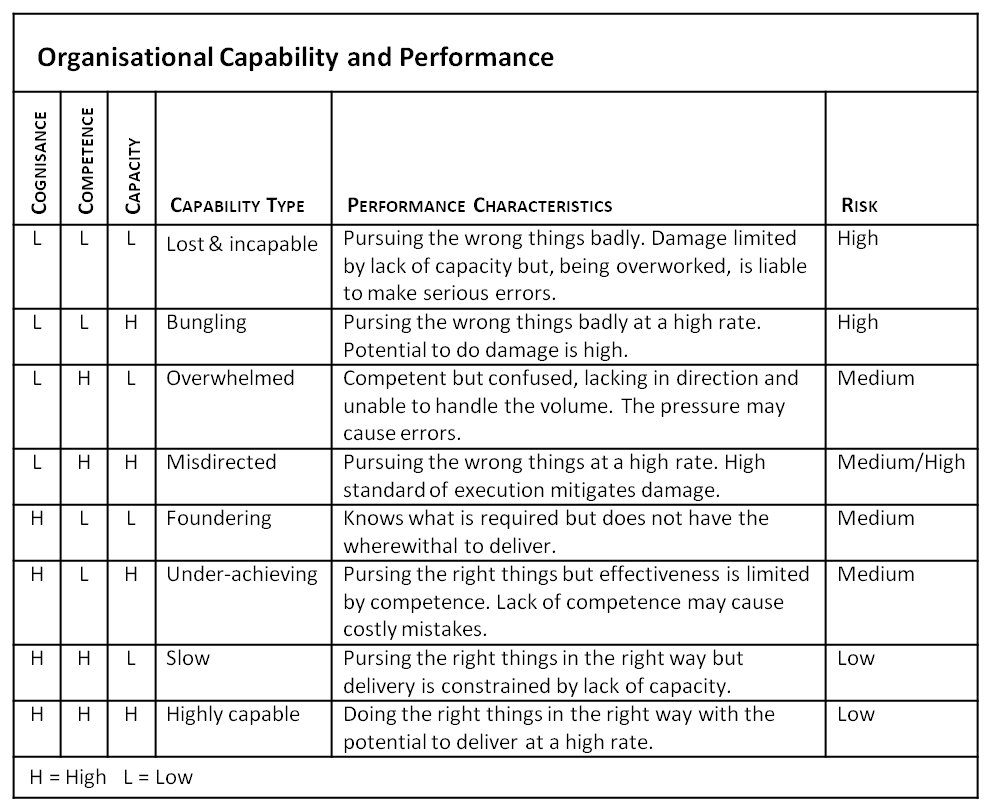 Observations and Analysis
Departments and functions within a business often have a distorted perspective of what the business requires of them, i.e. low cognisance. It is not unusual for departmental strategies to be (partially)  disconnected and misaligned. In my experience this applies particularly to Procurement.
Over my 30+ years involvement, the procurement function has raised its profile, and elevated its status within business, but often Procurement still operates as a detached, back-office function. There has been  substantial  centralization with emphasis on up-skilling, often with scant consideration for what other stakeholders, and the business generally, really require. My analysis last week of the ongoing Procurement Professionals (LinkedIn) Group discussion on the failure of procurement initiatives to deliver to the bottom line revealed that over one third of Procurement Professionals attributed failure to poor planning and a lack of understanding of the true costs. Pressure to keep resources to a minimum can mean that the focus is on quick execution rather than on understanding the business requirements and true value delivery. As a consequence, many apparently well-resourced procurement programmes may 'misdirected' or, if more tightly resourced, 'overwhelmed'.
One of the interesting points that Govender makes, backed up by Accenture's research, is "A high performer need only excel in one or two key domains, such as fulfilment and planning, and need only perform close to average on the rest. Excelling in every area would require too much internal investment."  This raises the question of what will happen if key domains are lacking in capability where other domains are resourced to full capacity with highly competent staff? The 3C model tells us the result is likely to be misdirected initiatives placing the business at risk.  If competencies in key domains have been overlooked, then critical initiatives may be bungled and risks to the business can be high.
Conclusion
The 3C Model explains the spiral decline of some businesses that get into difficulty, where focus on urgent cost reduction, rather than understanding and focusing on the value drivers, further weakens  the business and increases the rate of decline.
In less extreme cases Procurement (and other functions) fail to deliver their potential to add value,  and subject other parts of the business to avoidable risk and consequential, unforeseen costs. These failings are rooted in a lack of understanding of the true business requirements.
I hope this article will stimulate readers to think about their department or function's capability and, in particular, whether it really understands what the business requires of it.
Join the discussion, "Why do so many procurement cost saving initiatives fail to deliver to the bottom line?" at Procurement Professionals (#1 supply chain & sourcing group) on LinkedIn
References:
"Command and Supply" by Kamendran Govender – Supply Management, September 2010
"Seven Supply Chain Commandments? I Think One Commandment Is Enough!" by Michael Lamoureux – Sourcing  Innovation, October 2010
"Is There a Lack of Innovation From Outsourcers?" by Stephanie Overby – CIO, 21 November 2011
" Competitive Advantage: Creating and Sustaining Superior Performance", Michael E. Porter, First Free Press Edition 1985